Vespel® Plastic Machining Services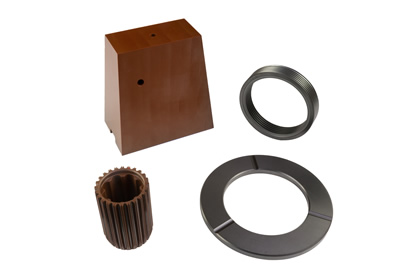 Vespel® per ASTM D6456 is considered one of the highest performing engineering plastics on the market today. The very properties that make this material such a performer also make it difficult to machine. Understanding the machining properties of various grades of Vespel® is critical to being able to produce a quality part. Upland Fab has decades of experience machining various grades of Vespel®.
Upland Fab's Vespel® Experience Saves Time & Money
Current users of Vespel® per ASTM D6456 and other Polyimides such as Meldin® already know there is a very high cost to these composite machining materials. This is why it is critical to choose a machining supplier with experience. Upland Fab's experience enables parts to be machined with minimal scrap, these savings are passed on to the customer.
CNC Technologies for Machining Vespel® Polyimide Parts
Upland Fab employs the use of multi-axis machining when working with Vespel®. This application of technology is critical to ensuring the parts are machined correctly the first time with minimal handling and fixturing. Often times even the most complex parts are completed in a single operation.
By relying on Digital Product Definition, also referred to as Model-Based Definition or DPD/MBD processes, we are able to machine parts directly from our customers' CAD models. As a result, the possibility of errors is greatly reduced – and so are costs. You won't find high quality, low-cost Vespel® parts anywhere else.
Upland fab's Top-Flight Communication
Communication is essential for success. By offering a variety of Vespel® polyimide machining and fabrication services, we will ensure that projects move smoothly and swiftly. Moreover, every one of our clients works with a single point of contact, which means they experience reliable communication and a level of consistency that they won't find anywhere else. 
Other Materials We Work With
Are you looking for another material? We have the ability to machine many different materials take a look below at some of the other plastics we work with. Send us your project requirements and we'll be happy to personally connect with you and discuss your application in more detail!
Discover the advantages of partnering with Upland Fab
Upland Fab machines top-quality parts from Vespel® per ASTM D6456. Start a project today or give us a call at 909-986-6565 with any questions.
Properties of Vespel® Material
TYPICAL PROPERTIES of Vespel
ASTM or UL test
Property 
 
Filler Material
Unfilled
15% Graphite
40% Graphite
10% PTFE, 15% Graphite
15% Moly
PHYSICAL
D792
Vespel® Density (lb/in³) (g/cm³)
0.051
1.43
0.055
1.51
0.060
1.65
0.056
1.55
0.058
1.60
D570
Water Absorption of Vespel® 24 hrs @ 73°F (%) 48 hrs @ 122°F (%)

0.24

0.72

0.19

0.57

0.14

0.42

0.21

0.49

0.23

0.65

MECHANICAL
D638

Vespel® Tensile Strength, Ultimate @ 73°F (psi)
@ 500°F (psi)

12,000

6,000

9,500

5,500

7,500

3,400

6,500

3,500

8,200

-

D638
Tensile Modulus (psi)
-
-
-
-
-
D638

Tensile Elongation, Ultimate @ 73°F (%)@ 500°F (%)

7.5

6.0

4.5

6.0

3.0

2.0

3.5

3.0

4.0

-

D790
Flexural Strength of Vespel®, Ultimate @ 73°F (psi) @ 500°F (psi)

16,000

9,000

16,000

9,000

13,000

6,500

10,000

5,000

11,000

5,500

D790

Flexural Modulus @ 73°F (psi)
@ 500°F (psi)

450,000

250,000

550,000

370,000

700,000

400,000

450,000

200,000

475,000

270,000

D695
Compressive Strength, 10% strain @73°F(psi)
19,300
19,300
16,300
14,800
18,500
D695
Compressive Modulus (psi)
350,000
420,000
475,000
300,000
350,000
D785
Vespel® Hardness, Rockwell
E45-60
E25-45
E5-25
E1-20
E40-55
D256
IZOD Impact Notched (ft-lb/in)
0.8
0.8
-
-
0.4
THERMAL
D696
Coefficient of Linear Thermal Expansion
(x10-5 in./in./°F)
3
2.7
2.1
3
2.9
D648
Heat Deflection Temp (°F/°C)
at 264 psi
680 / 360
680 / 360
-
-
-
-
Max Continuous Operating Temp (°F/°C)
500 / 260
500 / 260
500 / 260
500 / 260
500 / 260
C177
Thermal Conductivity
(BTU-in/ft²-hr-°F)
(x10-4 cal/cm-sec-°C)

2.0
6.9

6.0
20.7

12.0
41.3

5.3
18.3

3.2
11.0
UL94
Flammability Rating of Vespel®
V-0
V-0
V-0
V-0
V-0
ELECTRICAL
D149
Dielectric Strength of Vespel® (V/mil) short time, 1/8" thick
560
250
-
-
-
D150
Dielectric Constant at 1 MHz
3.55
13.2
-
-
-
D150
Dissipation Factor at 1 MHz
0.0034
0.0106
-
-
-
D257
Volume Resistivity (ohm-cm) at 50% RH
10^14 - 10^15
10^12 - 10^13
-
-
-