Torlon® Plastic Machining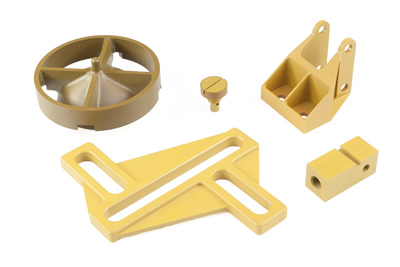 Precise machining of Torlon® can be very difficult especially in complex geometries involving large amounts of material removal. Upland Fab's Engineers have over 2 decades of experience creating precise components in many grades of Torlon®. One of the many battles faced in machining Torlon® is managing the stresses in the material. Upland Fab's internal annealing capabilities combined with the vast experience in machining Torlon® allow us to manage these stresses efficiently to produce stable parts the first time. Torlon® grades such as 4301 and 5530 can be extremely abrasive, wearing out tools at a rapid pace. Upland Fab's engineers understand this up front and plan accordingly. This helps the customer get their parts on time and to print by removing any potential delays.
Performance-Leading Torlon® Polyamide-Imide (PAI)
Torlon® (Polyamide-Imide or PAI) is considered one of the highest performing engineering plastics on the market today. Torlon® exhibits excellent dimensional stability with low creep at continuous operating temperatures of 500°F. Torlon® is used throughout many industries such as aerospace for satellite components; it's used in the semiconductor industry for socket assemblies; it's used in the fluid transfer industry for pump components and valve seals.
Using CNC Technologies for Machining Torlon® Parts
Upland Fab employs the use of multi-axis machining when working with Torlon®. This application of technology is critical to ensuring the parts are machined correctly the first time with minimal handling and fixturing. Often times even the most complex parts are completed in a single operation. Managing moisture absorption is critical to holding precise tolerances in Torlon®, Upland Fab's ability to dry machine (no coolant) Torlon® reduces the effect of moisture absorption.
The Digital Product Definition, also referred to as Model-Based Definition or DPD/MBD processes in place at our facility allow us to make complex Torlon® parts directly from a customer supplied CAD model. The result? Accurate and cost-effective parts.
Follow Your Project Every Step Of The Way With Upland Fab's Top-Flight Communication
Our ability to machine Torlon® is just one of the things that set us apart from other manufacturers. By prioritizing communication, we're able to offer our clients constant updates and peace of mind as their projects move forward. As our customer, you'll work with a single point of contact who will work closely with you – every step of the way. 
Other Materials We Work With
Are you looking for another material? We have the ability to machine many different materials take a look below at some of the other plastics we work with. 
Are you interested in taking a deeper look into which material you should be using? Give us a call today at 909-986-6565 or send us your project requirements today and we'll be happy to personally connect with you and discuss your application in more detail!
Discover the Upland Edge and Contact Us Today
Upland Fab is a leader in Torlon® machining. To start a project send us a Request for Quote. For other questions or to discuss your project, call us at 909-986-6565.
Properties of Torlon® Material
TYPICAL PROPERTIES of Torlon®
ASTM or UL test
Property
 
 
Elect. Grade
Bearing Grade
Glass-Filled
Extruded
Compression Molded
PHYSICAL
D792
Torlon® Density (lb/in³) (g/cm³)
0.051
1.41
0.052
1.45
0.059
1.61
0.058
1.6
0.058
1.61
D570
Water Absorption of Torlon®, 24hrs (%)

0.4

0.4

0.3

0.3

0.3

MECHANICAL
D638

Torlon® Tensile Strength (psi)

18,000

12,000

15,000

23,000

15,000

D638
Torlon® Tensile Modulus (psi)
600,000
800,000
900,000
1,000,000
900,000
D638

Tensile Elongation at Break (%)

10

3

3

4

3

D790
Flexural Strength of Torlon® (psi)

24,000

23,000

20,000

30,000

20,000

D790

Flexural Modulus (psi)

600,000

800,000

900,000

980,000

900,000

D695
Compressive Strength of Torlon® (psi)
24,000
19,300
16,300
14,800
18,500
D695
Compressive Modulus (psi)
700,000
950,000
600,000
700,000
600,000
D785
Torlon® Hardness, Rockwell
E80 (M120)
E70 (M106)
E85(M125)
E90
E85(M106)
D256
IZOD Impact Notched (ft-lb/in)
2
0.8
0.7
1
0.7
THERMAL
D696
Coefficient of Linear Thermal Expansion
(x10-5 in./in./°F)
1.7
1.4
2.6
0.9
2.6
D648
Heat Deflection Temp (°F/°C)
at 264 psi
532 / 278
534 / 279
520 / 271
-
520 / 271
-
Max Continuous Operating Temp of Torlon® (°F/°C)
500 / 260
500 / 260
500 / 260
500 / 260
500 / 260
C177
Thermal Conductivity
(BTU-in/ft²-hr-°F)
(x10-4 cal/cm-sec-°C)

1.8
6.2

3.7
12.8

2.5
8.61

2.5
8.6

2.5
8.6
UL94
Flammability Rating of Torlon®
V-0
V-0
V-0
V-0
V-0
ELECTRICAL
D149
Dielectric Strength of Torlon® (V/mil) short time, 1/8" thick
580
-
700
700
-
D150
Dielectric Constant at 1 MHz
4.2
6
6.3
6.3
-
D150
Dissipation Factor at 1 MHz
0.026
0.037
0.022
0.05
-
D257
Volume Resistivity (ohm-cm) at 50% RH
 10^16
10^13
10^13
10^13
10^13