Polyetheretherketone (PEEK) Plastic Machining Services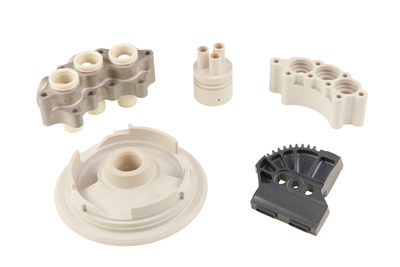 Often times due to the high performance applications of PEEK, parts are designed with precise tolerances and finishes. Polyether ether ketone (PEEK) is a colorless organic polymer thermoplastic used in engineering applications. This is very common in fluid applications such as seals and manifolds. Holding these tolerances and finishes requires a good knowledge of the machining characteristics of PEEK. Upland Fab has been machining all grades of PEEK for decades, giving us that experience to produce a quality part the first time. When machining the filled grades of PEEK , it is critical to properly manage the stresses in material, our engineers employ precisely controlled processes to control these stresses.
Machining PEEK 
For PEEK polyetheretherketone applications requiring strength and dimensional stability for continuous use up to 500°F, PEEK plastic is the perfect choice.  An additional application of PEEK is when good chemical resistance is required, often PEEK plastic is used in place of fluoropolymers when used at elevated temperatures. These properties are suited perfectly for use in the medical industry, aerospace industry, semi-conductor, and oil and gas industries. PEEK materials can be purchased in sheet, rod, and tube formats with unfilled, 30% glass-fiber and 30% carbon fiber reinforced and bearing grade options.
Properties of PEEK Material
TYPICAL PROPERTIES of EXTRUDED PEEK
(compression molded and injection molded versions also available) updated 19 May 2008
ASTM or UL test
Property
Unfilled
30% Glass Fibers
30% Carbon Fibers
Bearing Grade
PEEK HT ™
PHYSICAL PROPERTIES OF EXTRUDED PEEK
D792
Density (lb/in³)
(g/cm³)
0.047
1.31
0.056
1.54
0.051
1.41
0.052
1.44
0.047
1.32
D570
Water Absorption, 24 hrs (%)
0.1
0.1
0.06
0.05
-
MECHANICAL PROPERTIES OF EXTRUDED PEEK
D638
Tensile Strength (psi)
16,000
15,000
19,000
11,000
11,000
D638
Tensile Modulus (psi)
500,000
900,000
1,100,000
850,000
500,000
D638
Tensile Elongation at Break (%)
20
3
5
2
20
D790
Flexural Strength of Peek (psi)
25,000
28,000
25,750
27,500
27,000
D790
Flexural Modulus (psi)
600,000
1,000,000
1,250,000
1,100,000
600,000
D695
Compressive Strength of Peek (psi)
20,000
26,000
29,000
26,700
20,000
D695
Compressive Modulus of Peek (psi)
500,000
1,000,000
-
1,000,000
-
D785
Hardness, Rockwell
M100 (R126)
M103
M102
M85
R108
D256
IZOD Impact Notched (ft-lb/in)
1
1.4
1
0.7
-
THERMAL PROPERTIES OF EXTRUDED PEEK
D696
Coefficient of Linear Thermal Expansion of Peek
(x 10-5 in./in./°F)
2.6
1.2
1
1.7
-
D648
Heat Deflection Temp (°F / °C)
at 264 psi
320 / 160
600 / 315
550 / 288
383 / 195
329/165
D3418
Melting Temp of Peek (°F / °C)
644 / 340
644 / 340
644 / 340
-
705/374
-
Max Operating Temp of Peek (°F / °C)
480 / 249
480 / 249
500 / 260
482 / 250
- / -
C177
Thermal Conductivity of Peek
(BTU-in/ft²-hr-°F)
(x 10-4 cal/cm-sec-°C)

1.75
6.03

2.98
10.3

6.4
22

1.7
5.9

-
-
UL94
Flammability Rating of Peek
V-0
V-0
V-0
V-0
V-0
ELECTRICAL PROPERTIES OF EXTRUDED PEEK
D149
Dielectric Strength (V/mil) short time, 1/8" thick
480
500
32
-
-
D150
Dielectric Constant at 1 MHz
3.3
3.7
-
-
-
D150
Dissipation Factor at 1 MHz
0.003
-
-
-
0.003
D257
Volume Resistivity (ohm-cm) at 50% RH of Peek
4.9 x 1016
5 x 1016
105
103
1016
PEEK Parts and CNC Technologies
Upland Fab employs the use of multi-axis machining when working with PEEK. This application of technology is critical to ensuring the parts are machined correctly the first time with minimal handling and fixturing. Often times even the most complex parts are completed in a single operation.
Upland Fab machines complex PEEK components directly from customer-supplied CAD models. Our DPD/MBD processes (Digital Product Definition, also referred to as Model-Based Definition) allow us to reduce manufacturing errors, which in turn allows us to produce PEEK parts at a very low cost. Have questions about our DPD process? Give us a call today at 909-986-6565 to discuss your next PEEK project.
Stay Up-To-Date On Your Project With Top-Flight Communication
At Upland Fab, communication is a top priority. By providing reliable, consistent communication to our customers, we are able to offer something that our competitors don't: peace of mind. As an Upland Fab customer, you will work with a single point of contact who will keep you up-to-date on the progress of your project – every step of the way. Send us your project requirements today!
Other Materials We Work With
Are you looking for another material? We have the ability to machine many different materials take a look below at some of the other plastics we work with. 
Are you interested in taking a deeper look into which material you should be using? Contact us and we'll be happy to personally connect with you and discuss your application in more detail!
Discover the Upland Edge and Contact Us Today!
Upland Fab is an industry leader in PEEK machining. You'll discover the reason why when you Contact Upland Fab to discuss your project. Or send us a Request for Quote on your next project!