Mil-I-24768 Composite Laminate Machining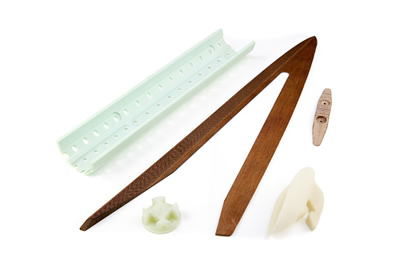 Machining of these laminates takes experience and proper equipment. The machinist must be knowledgeable about causes of delamination, burning, and rapid cutter wear. Upland Fab's engineers have been machining these materials for over 45 years. With many laminate materials in stock, we can provide quick-turn parts at a savings to the customer. Our extensive dust control equipment is essential to maintaining a safe working environment when working with laminate materials.
High-Pressure Laminates Mil-I-24768
Laminated materials such as FR4/G10 machining and G11 plastic machining have been in use for decades and Upland Fab Engineers have been machining these materials for the same amount of time. Often thought of as fiberglass, these laminates are actually composite materials composed of a base material and resin. Available base materials are cotton, glass, nylon material, and paper combined with resins such as phenolic, melamine, epoxy, or polyester. Most often used for their excellent insulating properties, the laminates are found in high voltage applications as well as circuit board and semiconductor applications. Because of how they are constructed, another appealing property is the strength of these materials. Today's engineers are using these materials more and more as structural components.
Top-Flight Communication with Upland Fabrication
Upland Fab is one of the few companies that has the capability to machine laminates. However, we're unique in more ways than one. We are dedicated to providing reliable communication to our clients. This helps ensure that our customers' projects move along smoothly and swiftly. To make things as simple as possible, we offer our clients a single point of contact.
Contact Us Today and Discover the Upland Edge
Upland Fabrication is a leader in Mil-I-24768 laminate composite machining. To discover the advantage of working with our FR4/G10 material and G11 material as well as our excellent Upland Fab customer service. Contact Upland Fab to discuss your next project.