Machined Plastic Parts for Semiconductor Components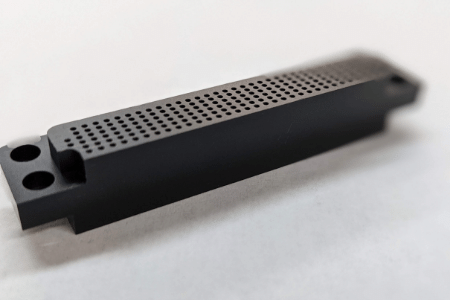 Metal contamination is something that semiconductor manufacturers strive to avoid at all costs. At CNC shops that work with metal, the risk of contamination is high. Moreover, many of these shops have little or no experience with plastics. Upland Fab works exclusively with plastics, which means there is no risk of contamination. It also means that your plastic parts will be produced with precision.
The semi conductor wafer processing industry relies on Upland Fab to create precise parts out of high performance engineering plastics. It's because our experience with plastics is so extensive that we are able to achieve the kind of accuracy that our customers expect.
Semiconductor Part Machining Equipment
How do we do it? We use cutting-edge equipment, such as our 5-axis milling and 8-axis mill-turn centers to manufacture complex parts for semiconductors. Multi axis machining centers allow us to manufacture complex parts in one operation reducing setup costs and allowing for smaller batch sizes.
Knowledgeable & Experienced Engineering Staff
The engineers on our team have been with us for a long time, which means they have more experience with plastics than you'll find anywhere else. Our technicians are trained in-house so they know exactly what they need to do to turn your design into a fully functional part. 
Precision Plastics and Composite Machined Materials
Precision plastics and composite materials are our specialties. We can manufacture plastic and composite parts with complex geometries from materials such as:
Contact us for your Semi Conductor Components Today
For more information about the services we provide to the semi conductor wafer processing industry, contact Upland Fab today. Or get started with your semiconductor wafer project here!