Teflon® (PTFE) Plastic Machining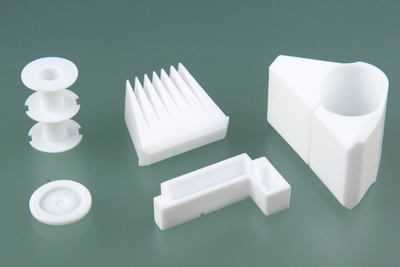 The unique properties of Teflon® (PTFE) make it very difficult to machine unless you have experience with it. Dimensional changes are often experienced if the proper techniques and material preparations are not employed. Upland Fab's engineers have been machining Teflon for over 50 years and fully understand the necessary steps that need to be taken to produce a quality part every time. Having in-house annealing capabilities helps Upland Fab to reduce throughput time and costs by keeping the work in-house.
Teflon® (PTFE)
Teflon® is DuPont's trade name for polytetrafluoroethylene(PTFE)stance is required. Since Teflon® has a very low coefficient of friction, it is often used in wear applications as well as seals and gaskets. With good dimensional stability up to 500°F, Teflon® (PTFE) has found many uses in the medical industry, aerospace industry, and semi-conductor industry.
Deburring Teflon® (PTFE) Parts
Because Teflon is so soft, burrs can be a problem when machining Teflon®. With over 50 years of plastics machining experience, Upland Fab possesses the knowledge and technologies required to produce burr-free Teflon® parts. Upland Fab uses Cryogenic Deburring to remove burrs in Teflon® parts. This process eliminates hours of labor that some shops might spend on the deburring process.
Upland Fab's Top-Flight Communication
Our approach to machining Teflon® is unique, but that's not all that sets us apart. We offer reliable, consistent communication so that our customers always know the status of the projects. In fact, as an Upland Fabrication customer, you'll have a single point of contact who will keep you constantly informed.
Other Materials We Work With
Are you looking for another material? We have the ability to machine many different composite machining materials take a look below at some of the other plastics we work with. 
Are you interested in taking a deeper look into which material you should be using? Contact us and we'll be happy to personally connect with you and discuss your application in more detail!
Discover the Upland Fab Edge
To work with an industry leader in Teflon® machining, click here to Start A Project or contact us to discuss. 
Properties of Teflon® Material
TYPICAL PROPERTIES of Teflon®
ASTM or UL test
Property
 
 
Unfilled
25% Glass Filled
25% Carbon Filled
PHYSICAL
D792

Teflon® Density (lb/in³)(g/cm³)

0.078
2.16
0.081
2.25
0.075
2.08
D570
Water Absorption of Teflon®, 24hrs (%)

<0.01

0.02

0.05

MECHANICAL
D638

Teflon® Tensile Strength (psi)

3,900

2,100

1,900

D638
Teflon® Tensile Modulus (psi)
80,000
-
-
D638

Tensile Elongation at Break (%)

300

270

75

D790
Flexural Strength of Teflon® (psi)

No Break

1,950

2,300

D790

Flexural Modulus (psi)

72,000

190,000

160,000

D695
Compressive Strength of Teflon® (psi)
3,500
1,000
1,700
D695
Compressive Modulus (psi)
70,000
110,000
87,000
D785
Teflon® Hardness, Shore D
D50
D60
D62
D256
IZOD Impact Notched (ft-lb/in)
3.5
-
-
THERMAL
D696
Coefficient of Linear Thermal Expansion
(x10-5 in./in./°F)
7.5
6.4
6
D648
Heat Deflection Temp (°F/°C)
at 264 psi
132 / 55
150 / 65
150 / 65
D3418
Melting Temp (°F/°C)
635 / 335
635 / 335
635 / 335
-
Max Operating Temp of Teflon® (°F/°C)
500 / 260
500 / 260
500 / 260
C177
Thermal Conductivity
(BTU-in/ft²-hr-°F)
(x10-4 cal/cm-sec-°C)

1.7
5.86

3.1
10.6

4.5
15.5
UL94
Flammability Rating of Teflon®
V-0
V-0
V-0
ELECTRICAL
D149
Dielectric Strength of Teflon® (V/mil) short time, 1/8" thick
285
-
-
D150
Dielectric Constant at 1 MHz
2.1
2.4
-
D150
Dissipation Factor at 1 MHz
<0.0002
0.05
-
D257
Volume Resistivity (ohm - cm) at 50% RH
 10^18
10^15
104