CNC Turning for Low Volume Plastic Parts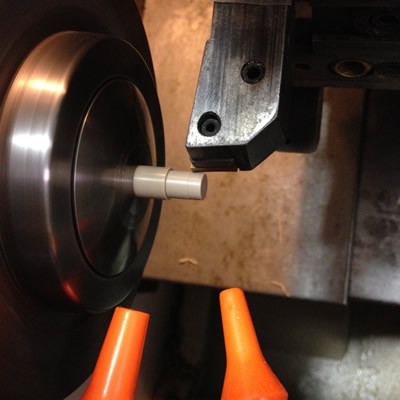 Most companies that manufacture plastic parts rely on 3D printing or injection molding, while most CNC shops only work with metal. Which company has the perfect blend of experience with both CNC turning and plastics manufacturing? The answer is Upland Fab.

Our experienced engineers and in-house trained technicians can take your complex geometries and turn them into top-quality parts – with a precision that the competition just can't match.
CNC Plastic Part Turning Equipment Technologies
At our facility, we operate a full complement of plastic CNC turning equipment, ranging from basic 2- and 3-axis lathes to a revolutionary 8-axis mill-turn center.
The 8-axis mill-turn center combines a 3-axis lathe with a 5-axis CNC mill to machine complex parts in a single setup. It makes unattended machining possible and significantly decreases lead times. Upland Fab is the only plastics manufacturer that has an 8-axis mill-turn center – you won't experience the benefits of this cutting-edge technology anywhere else.
Why Manufacture Plastic Parts Using CNC Turning?
Injection molding, rapid prototyping, and 3D printing can't compete with CNC turning in terms of accuracy. With plastic CNC turning, we achieve much tighter tolerances than are possible with other manufacturing methods.
CNC turning is also effective for a much broader range of materials. At Upland Fab, we use CNC turning to machine plastic parts from materials such as Vespel®, Teflon®, carbon-fiber composites and many others.
Because it's highly efficient, CNC turning is far more cost-effective than injection molding or rapid prototyping.
Precision Communication with Upland Fab
Our commitment to accuracy doesn't end on the shop floor. We pride ourselves on clear communication with our customers. As one of our customers, you'll have a single point of contact who will work with you and help keep your project on track. Leave the confusion that comes with dealing with multiple points of contact behind – for good.
Contact Upland Fab today to learn more about CNC Turning
If you have a design for a low volume part, give us a call at 909-986-6565, let Upland Fab manufacture it for you. We've been providing top-flight plastics & composite machining in Southern California Since 1970. Contact us today for more information or get a quote. We are looking forward to hearing from you!