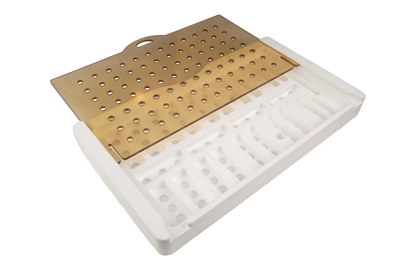 Upland Fab has been serving the medical industry manufacturing surgical caddies from medical grade plastics for over 12 years. Using plastics optimized for repeated sterilization cycles such as medical grade polypropylene and Radel®, Upland Fab can supply you with low volume highly customized caddies. Our process makes it easy for you to quickly adjust your design and have your new product in your hands in a very short time. Our internal processes such as DPD/MBD (Digital Product Definition / Model-Based Definition) controls and cryogenic deburring set us apart from our competition.
Top-Flight Communication & Response Time
We're an industry leader in machining surgical caddies, but we lead in other ways too. We offer consistent, reliable communication to our customers. It helps keeps projects moving smoothly and it helps keep our customers involved in the process.
Contact Us Today and Discover the Upland Fabrication Edge
Upland Fab machines surgical caddies accurately, quickly and cost-effectively. Contact us to discuss your project.