Honeycomb Part 5-Axis Machining Services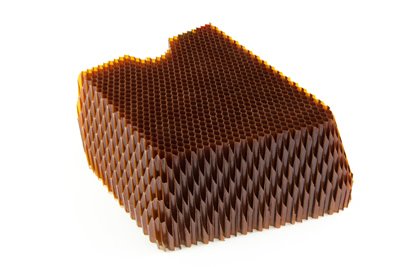 At Upland Fab, we have the capabilities to work with aluminum, aramid, and glass honeycomb materials. Upland Fab's 5-axis machining capabilities along with our experience in machining composites make us perfectly suited for the complex machining required of honeycomb parts.
Honeycomb structures are manufactured with numerous hollow cells that are formed between vertical walls. This type of structure has minimal density, good tension strength and compression properties. Composite and aluminum honeycomb machined parts are manufactured through 5-axis machining capabilities that create honeycomb parts for various applications. Honeycomb core machining produces parts that are extraordinarily strong, stiff, tough, lightweight, and corrosion resistant.
Contact us for more information regarding our 5-axis honeycomb machining capabilities that are used for the manufacturing of honeycomb aerospace parts. If you have specific questions regarding 5-axis machining processes, please call us at 909-986-6565 and we will gladly assist you.
5-Axis Machining for Honeycomb Composites
With the growing use of carbon fiber composites (CFRP) in the aerospace industry, engineers are requiring honeycomb core machined for structural strength. Honeycomb is typically made of aluminum or Nomex®, Kevlar®, or fiberglass (fibrous) depending on the intended application. The complex shape of today's aerospace composites requires equally complex honeycomb shapes. Creating these shapes can prove to be very difficult as the cutting of honeycomb structures is unlike any other machining. Only an experienced shop like Upland Fab can successfully machine honeycomb structures to meet these stringent aerospace requirements.
Honeycomb Core Machining Advantages
Utilizing honeycomb core machining processes such as honeycomb CNC machining, composite and aluminum honeycomb can be designed and manufactured with any number of cell shapes, sizes, and configurations. From added flexibility to high strength, any specification can be accommodated with the proper honeycomb design. Some of the additional benefits that honeycomb 5-axis machining provides includes the following:
Exceptional strength to weight ratio
Corrosion resistance
High toughness
Fire and fungus resistant
High temperature performance
Does not absorb moisture
Easily machinable and formable
Provides cost-effective benefits like energy savings
Aluminum honeycomb provides maximum stiffness with one of the highest strength to weight ratios of any structural core material in the market.
Honeycomb 5-Axis Machining Applications 
Honey comb CNC cutting processes produce center of sandwich-structure composites that are uniquely manufactured between two thin panels of material. This sandwich form effectively combines the lightweight and high-strength qualities of honeycomb with the smooth, flat surfaces of the panels to allow for quick and easy installations. The panels also eliminate openings and unwanted airflow. 5-axis honeycomb machining is used for the following applications:
Honeycomb aerospace parts
LED technology
Automotive structures
Wind turbine blades
HVAC equipment
Energy absorption structures
Marine craft construction
Clean room panels
Recreational equipment
Honeycomb 5-Axis Machining Capabilities
Aluminum Honeycomb
Aluminum honeycomb is non-moisture absorbent and resistant to mold and fungal growth. Composite honeycomb machining for aluminum provides significant beneficial features that are ideal for aerospace applications.
Aluminum honeycomb is used in numerous aerospace applications and is one of the primary materials for critical substructures in rockets, aircraft, and jet engines, and propellers. In less sensitive applications, aluminum honeycomb is also used in aircraft heating, ventilation, and air conditioning systems.
Aramid Honeycomb
Aramid Honeycomb is a lightweight, high strength, nonmetallic honeycomb core material manufactured from aramid fiber paper with the typical hexangular cell shape. It provides a wide range of benefits including a high strength-to-weight ratio, exceptional stiffness, and good bonding ability.
Due to its extremely good mechanical properties, low density, and long-term stability, Aramid Honeycomb is often used in high-performance, non-aerospace components. It is ideal for any structure which requires excellent corrosion resistance and thermal insulation.
Glass Honeycomb
Manufactured from fiberglass prepreg, glass honeycomb maintains a high compression strength, low moisture pickup, high thermal stability, extremely low coefficient of thermal expansion, and high corrosion resistance. At Upland Fab, we can provide high efficiency glass honeycomb 5-axis machining services that are performed to your project's exact specifications.
Whether it is honeycomb aerospace parts, boat hulls, interiors of trains, sports equipment, body panels, or car chassis, glass honeycomb material is used extensively in numerous types of sandwich construction industrial applications.
Honeycomb Machining Digital Product Definition and Model Based Definition (DPD/MBD) Approved
Complex honeycomb parts requiring machining are almost always defined digitally. Having an approved DPD (Digital Product Definition)/MBD(Model Based Definition) is essential to properly controlling these models to ensure the right part is produced the first time. Upland Fab's DPD/MBD system has been approved by multiple aerospace primes such as Boeing and Collins Aerospace.
5-Axis Honeycomb Core Machining Coupled with Top-Flight Communication
Upland Fab is one of the few companies in California and nationwide that is capable of machining honeycomb, but that's not the only thing that makes us different. Our steadfast commitment to consistent, reliable communication is a big part of what makes us an industry leader. As one of our customers, you'll have a single point of contact who will provide updates and support as your project moves along.