Honeycomb Part 5-Axis Machining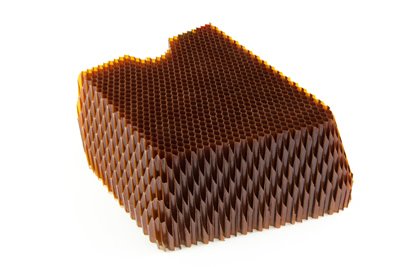 The complex design geometries along with the honeycomb specific cutters available often require that 5-axis machines are used to cut honeycomb. Upland Fab's
5-axis capabilities
 along with our experience in machining composites make us perfectly suited for the complex machining required of honeycomb parts.
5-Axis Machined Honeycomb Composites
With the growing use of carbon fiber composites (CFRP) in the aerospace industry, engineers are requiring honeycomb core machined for structural strength. Honeycomb is typically made of aluminum or Nomex®, Kevlar®, or fiberglass (fibrous) depending on the intended application. The complex shape of today's aerospace composites requires equally complex honeycomb shapes. Creating these shapes can prove to be very difficult as the cutting of honeycomb structures is unlike any other machining. Only an experienced shop like Upland Fab can successfully machine honeycomb structures to meet these stringent aerospace requirements.
Digital Product Definition and Model Based Definition (DPD/MBD) Approved
Complex honeycomb parts requiring machining are almost always defined digitally. Having an approved DPD (Digital Product Definition)/MBD(Model Based Definition) is essential to properly controlling these models to ensure the right part is produced the first time. Upland Fab's DPD/MBD system has been approved by multiple aerospace primes such as Boeing and UTC Aerospace.
Top-Flight Communication when working with Upland Fab
Upland Fab is one of the few companies in California and nationwide that is capable of machining honeycomb, but that's not the only thing that makes us different. Our steadfast commitment to consistent, reliable communication is a big part of what makes us an industry leader. As one of our customers, you'll have a single point of contact who will provide updates and support as your project moves along.
Contact Us Today and Discover the Upland Edge
Upland Fabrication brings together its proven CNC machining technology, "know-how" and real-world experience to apply the results of today's current advances in cutting tools and high-frequency applications to ensure the optimum combination and outcome for today's advanced materials manufacturer. You'll discover the reason why Upland Fab is a leader in honeycomb manufacturing when you contact us to discuss your project or get a quote on your honeycomb composite parts.