5-Axis Machining & Carbon Fiber Parts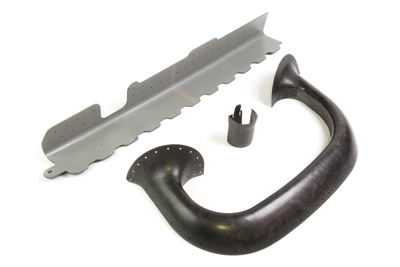 Carbon fiber composite machining is unlike any other machining. Unique to carbon fiber parts machining are issues such as delamination, dust control, and a reduction in properties due to exceeding the thermal limits of the material. Upland Fab's engineers have been machining carbon fiber composites for over a decade. Experiences with the aerospace industry have given us the ability to develop processes to monitor and control these issues on every part we machine.
Approved by Lockheed Martin and other aerospace manufacturers for flight-critical parts, Upland Fab is an industry leader in carbon fiber composites machining. As an ISO 9001:2015, AS9100 Rev D, and ITAR certified company, our CNC carbon fiber parts are manufactured and designed with the quality and reliability you can depend on for high-performance carbon fiber composite parts. With the high cost of materials and processing, it is important to choose an experienced company to machine your composite parts.
5-Axis Carbon Fiber Composites
The last decade has witnessed an explosion in the use of carbon fiber composites in product design. Due to its high strength to weight ratio, it has found its way into industries such as aerospace manufacturing, automotive, and drone manufacturing. The ability to produce complex shapes from a composite layup has enabled carbon fiber parts to replace metal parts that would have required extensive amounts of machining. Carbon fiber parts are often complex in shape. Trimming and drilling them require sophisticated multi-axis machining capabilities.
5-axis CNC machining offers you the ability to machine complex parts all in a single setup. Compared with 3 axis machining, 5-axis allows for increased productivity due to its multi-axis configuration. 5-axis machining also allows for machining complex shapes with improved accuracy, which also provides a cost-effective advantage over other machining processes.
Carbon Fiber Parts Machining
As the demand for carbon fiber parts continues to increase, working with carbon fiber machining experts has become exceedingly important. Carbon composites can break unpredictably, resulting in potential unrepairable results if not machined properly. Some benefits of machined carbon fiber parts include:
Corrosion resistant
Non-toxic
Non-flammable
X-ray permeable
Electrically conductive
Carbon Fiber Composite Machining at Upland Fab
In addition to our state-of-the-art 5 axis machining capabilities, we believe that communication is essential for successful client relationships. Every Upland Fab customer has a single point of contact who works with them every step of the way. As our customer, you will never have to ask about the status of your project – we will send consistent updates as your project moves forward.
Advanced CNC Carbon Fiber Modeling
Complex composite parts requiring machining are almost always defined digitally. Having an approved DPD (Digital Product Definition)/MBD (Model-Based Definition) is essential to properly controlling these models to ensure the right part is produced the first time. Upland Fabrication's DPD/MBD system has been approved by multiple Aerospace primes such as Boeing and Collins Aerospace.