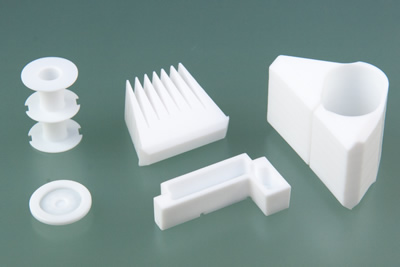 The unique properties of Teflon® (PTFE) make it very difficult to machine unless you have experience with it. Dimensional changes are often experienced if the proper techniques and material preparations are not employed. Upland Fab's engineers have been machining Teflon for over 30 years and fully understand the necessary steps that need to be taken to produce a quality part every time. Having in house annealing capabilities helps Upland Fab to reduce throughput time and costs by keeping the work in house.
Teflon® (PTFE)
Teflon® is DuPont's trade name for polytetrafluoroethylene (PTFE). It is a synthetic fluoropolymer found in applications where excellent chemical resistance is required. Since Teflon® has a very low coefficient of friction, it is often used in wear applications as well as seals and gaskets. With good dimensional stability up to 500°F, Teflon® (PTFE) has found many uses in the medical,aerospace, and semi-conductor industries.
Deburring Teflon® (PTFE) Parts
Because Teflon is so soft, burrs can be a problem when machining Teflon®. With over 40 years of plastics machining experience, Upland Fab possesses the knowledge and technologies required to produce burr-free Teflon® parts. Upland Fab uses Cryogenic Deburring to remove burrs in Teflon® parts. This process eliminates hours of labor that some shops might spend on the deburring process.
Upland Fab's Top-Flight Communication
Our approach to machining Teflon® is unique, but that's not all that sets us apart. We offer reliable, consistent communication so that our customers always know the status of the projects. In fact, as an Upland Fab customer, you'll have a single point of contact who will keep you constantly informed.
Discover the Upland Fab Edge
To work with an industry leader in Teflon® machining, click here to Start A Project or contact us to discuss your project.