Rohacell®, Foam Core & Urethane Tooling Board Machining Capabilities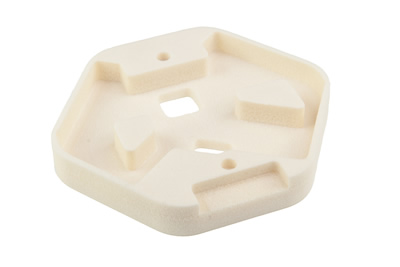 As the use of carbon fiber composite parts grows rapidly in today's industrial applications, so does the need for complex tooling and core components to help produce the sophisticated shapes needed. Upland Fab has become an industry leader in machining both Urethane tooling boards and composite core material such as Rohacell®. With over 45 years of experience in machining plastic materials, Upland Fab engineers have the skills and necessary equipment to machine these foam and foam core materials to exacting tolerances giving our customers the ability to produce equally precise composite parts from them.
Complex Foamcore Machining Digital Product Definition/Model Based Definition Approved
Complex foam and foam core parts requiring machining are almost always defined digitally. Having an approved DPD (Digital Product Definition)/MBD(Model Based Definition) is essential to properly controlling these models to ensure the right part is produced the first time. Upland Fab's DPD/MBD system has been approved by multiple aerospace primes such as Boeing and UTC Aerospace.
Stay Up-To_Date On Your Project With Top-Flight Communication From Upland Fab
Upland Fab offers industry-leading foam and Rohacell® foam core machining, but that's not all that sets us apart. We pride ourselves on the consistent, reliable communication that we offer to our clients. As our customer, you'll have a single point of contact who will be with you during every stage of your project's development.
Contact Us Today and Discover the Upland Edge
Discover what makes Upland Fab an industry leader in Rohacell® foam core machining. To Submit a project Click here or contact us  at 909-986-6565 to discuss your upcoming project.